| | |
| --- | --- |
| Posted on February 17, 2019 at 6:00 PM | |
All Parents / Guardians & Swimmers welcome
I am writing to invite you to Shepshed Swimming Club's Annual General Meeting which will take place on Tuesday 26th February 2019 at 7.00pm, this will be held at Iveshead School in Building A, room A5 at 7PM.
The meeting will start with reports from the Club Chairperson and the Treasurer and finish with voting for the new Committee. The Annual General Meeting will last for approximately 40 minutes and immediately after the new Committee will be invited to stay for a brief meeting.
The parents of swimmers and swimmers aged 16 years and over are entitled to vote. Please try to attend the meeting as the new Committee cannot be elected without a minimum number of people present to form a quorum.
The nomination sheet for the Committee members will be posted on the poolside notice board, Please consider supporting the club by adding your name, as the support of parents / guardians and swimmer's aged 16 years & over is vital to the continuing success of the club.
The club cannot operate without the goodwill of our volunteers so now would be a great time to put yourself forward. If you would like more information about what is involved in becoming a Committee member please speak to any current committee member, or email [email protected]
Yours sincerely
Kelly Snewin
Club Secretary
Shepshed Swimming Club
| | |
| --- | --- |
| Posted on December 27, 2018 at 12:30 AM | |
Please note training resumes on Monday 7th January.  However, we do have a gala on Saturday 5th January.  Please indicate your availability via facebook or the team manager as soon as possible.
| | |
| --- | --- |
| Posted on November 4, 2018 at 6:40 AM | |
This years Christmas Party will be held on Saturday 1st December - Save the date
| | |
| --- | --- |
| Posted on June 13, 2018 at 5:15 PM | |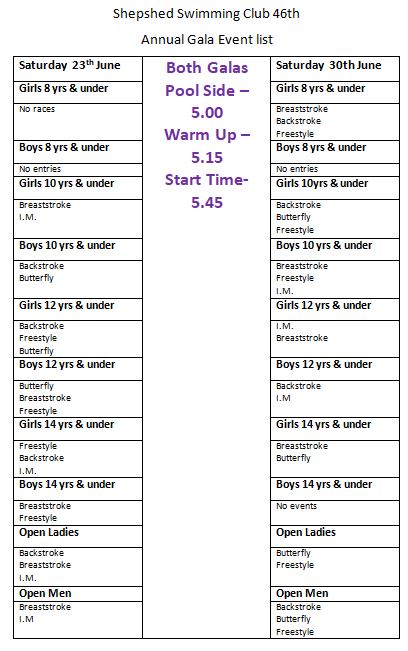 | | |
| --- | --- |
| Posted on April 23, 2018 at 5:50 PM | |
Saturday 23rd & 30th June 2018
Swimmers are now encouraged to take part in our 46th annual gala providing you are training with us and your ASA membership and fees are in place prior to the first Gala. The gala will be swum under ASA laws. Swimmers may enter in their own age groups only. Medals will be awarded at the gala to those competitors who gain 1st, 2nd, 3rd and 4th places in the final.
Application form must be submitted by Friday18th May - no late entries will be accepted
| | |
| --- | --- |
| Posted on March 14, 2018 at 5:00 PM | |
EASTER BINGO NIGHT plus raffle
Saturday 24th March  Black Swan Shepshed
Eyes down 7pm
Chip Butties included in the ticket price of £5 per head
Tickets are available from the desk poolside.
It would be great to see lots of our swimmers and mum's and dad's supporting our club.
Come and try your luck at bingo!
SSC Committee
| | |
| --- | --- |
| Posted on May 7, 2017 at 5:45 PM | |
The 2017 Annual Gala entry form is now available - Closing date for entry is 26th May
The event will be held on Saturday 24th June and 1st July 2017
/